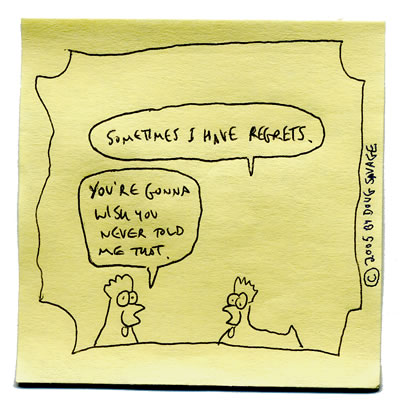 My friend used to tell me about a teacher he had in grade school. There was one kid who's habit was to do things in class that annoy the teacher and distract everybody, and as soon as she zooms her anger on him he immediately says
"I'm sorry miss, I'm sorry."
and sits still for not a very long time before the cycle begins again.
Through this cycle the teacher is being wound up toward an inevitable explosion. So one day the boy is whimpering as usual:
"Sorry miss, walla sorry."
and sits. And then the Miss has had enough.....
"NO!!! You're NOT SORRY. STOP SAYING YOU'RE SORRY. YOU'RE LYING. IF YOU WERE REALLY SORRY YOU WOULD STOP DOING IT AGAIN."
The story is a bit funny and me and my friend laugh about it whenever someone says
"sorry"
quoting her last line as an inside joke. "YOU'RE NOT SORRY!"
But what's funny about it? usually things are funny because there's some profound truth hidden inside. And in this case I think what she says about him not really being sorry is very true.
Which brings me to
Regret
. Being
"

Sorry

"
and being "
Regretful
" are almost the same thing. And recently I was reading about Hajj and Tawba and came across the 3 conditions for Tawba:
1- Intention to not go back to the sin.
Future
2- Stop doing the sin.
Present
3- Regretting the sin.
Past
And when you think about these 3 conditions for
true repentance
, you can see that if one of them is not available, then:
"YOU'RE NOT REALLY SORRY!"
The boy for example only fulfilled the 2nd condition, but not the 1st or 3rd. He did not resolve to stop doing it in the future, nor did he regret doing it in the past.
Same goes with most people who have a certain vice which has become habit and a normal and accepted part of their life. Like the woman who knows il7ejab wajeb but doesn't wear it and says she feels sorry for that, o inna inshalla Allah yahdeha. (assuming she admits inna wajeb, if she argues inna mo wajeb that's a totally different post :P). Like the guy who uses usurous (Reba) banking to gain interest on his savings (those guys usually never even admit they're wrong, and just avoid the discussion). Or the guy who smokes knowing that there are pretty valid arguments supporting that smoking is 7aram based on its a slow form of killing yourself, and that it has no real benefit.
My point of this post is this:
Let's say you actually stop smoking, or that you start wearing 7ejab, or whatever thing you felt was wrong, and actually DO stop doing it in the future (1st and 2nd condition fulfilled), is it really necessary for you to also
REGRET
doing it in the past?
What if you stop doing it, but you remember the times in which you did with nothing but fondness and joy, almost wishing to go back to doing it all over again? certainly no regret there. Yes ofcourse you're not doing it now, but if you love the times when you did, is this really a true tawba? I mean, Allah doesn't only want you to stop doing the bad thing, because all the sins of the whole world don't affect Him negatively one bit. Allah wants you mainly to feel that what you did was to the contrary to His command, and therefor you did not place His command above your own human whim. And Allah wants you to repent from
THAT
. He wants you to be
sorry from THAT
. The sinful deed is nothing but a byproduct of an arrogant feeling really.
So, I guess what I'm trying to say is:
Regret being a useless emotion is not only wrong (in my humble opinion), but actually a mandatory and necessary emotion. Required for all sinners who attempt to repent (and we're all sinners in one form or another).
حدثنا أحمد بن منيع قال : حدثنا زيد بن حباب قال : حدثنا علي بن مسعدة الباهلي قال : حدثنا قتادة ، عن أنس ، أن النبي صلى الله عليه وسلم قال : " "

كل ابن آدم خطاء وخير الخطائين التوابون

"
سنن الترمذي
Because if you don't regret it, you're
NOT REALLY SORRY
:P
If you don't resolve to never do it in the future, you're...
NOT REALLY SORRY
:P
and lastly... if you're still doing it, you're
NOT REALLY SORRY
:)